Last weekend was the 2nd annual "Great Willamette Clean-Up" and a couple of local cyclists took to some water based human powered crafts to help out in the effort. The River Path is the most important recreation and transportation system in our community, and keeping the river healthy and clean is an important part of it. Here's a bit of a report back from their work on the "Urban Willamette":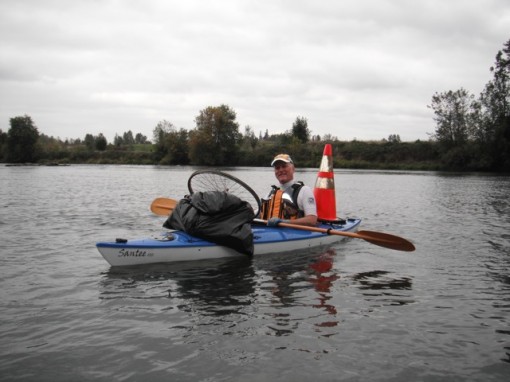 Here is the giant ODOT cone Hugh (who sent in the pictures and report) found under I-5, plus a bike wheel and second load of trash.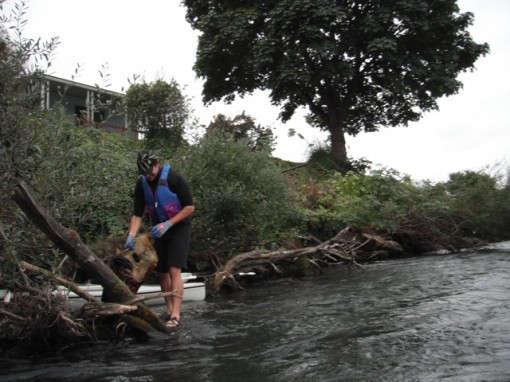 Hugh's teammate, Dave Roth, delights in a front fender from a fifties automobile just below Pizza Rapids. It was too big and heavy for them to haul out. Moments later, Dave found a GIGANTIC pair of bolt cutters, which the bad people use to steal bicycles. This was especially gratifying as Dave works for the city of Eugene on bicycle planning and is a bike mechanic. Downstream, they found a severed cable lock and more bike parts.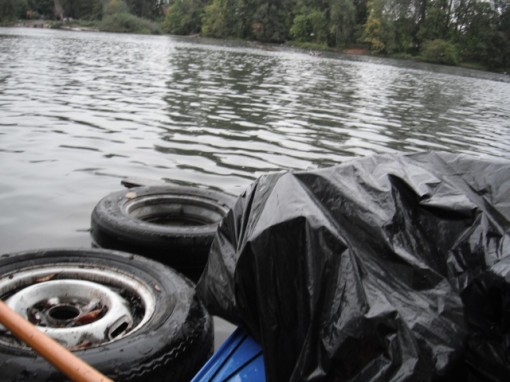 Here is a raft Hugh put together and then S-L-O-W-L-Y pushed/paddled across and down the river to the D Street Ramp. The blue of the boat is barely visible beneath the bag of crap. Above the "front tire" you can see a 2×4. It is one of the legs of an 8 foot plywood sign which is beneath the whole mess, including the boat. Arrrrggghh, he's the the captain o' his own ship!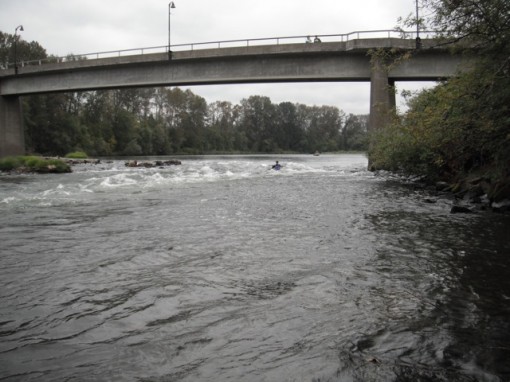 Dave, not a seasoned kayaker, makes it just fine through the "Frohnmayer Rapids."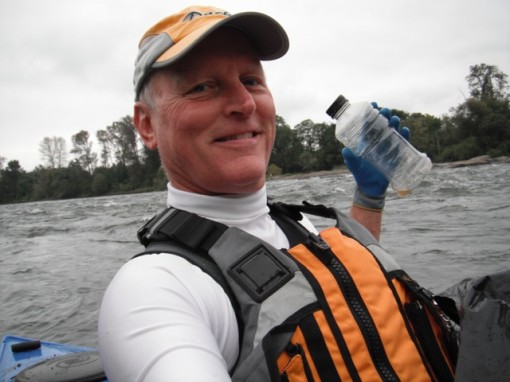 A happy guy with another bottle of odious liquid.
'Twas a rewarding morning and Tiring!