The following is a press release from Sue Wolling, President of the Greater Eugene Area Riders (GEARs):
"Ride of Silence" Honors Bicyclists Killed on Roads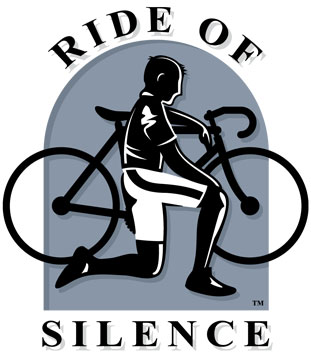 The Ride of Silence, an annual bicycle ride held to memorialize cyclists killed or seriously injured on local roadways and to promote traffic safety, will be held on Wednesday, May 19.  Riders will gather at the EMU Amphitheater on the University of Oregon campus (13th & University) at 6:45 p.m.  After a brief ceremony, the group will leave on bicycle to visit the sites of several bike fatalities in recent years.
The Ride of Silence is a slow-paced, silent ride, similar to a funeral procession.  Besides honoring those who have been killed while bicycling, the Ride seeks to give a visible reminder to motorists and bicyclists alike of their responsibility for ensuring safety on our shared roadways.
According to the Oregon Department of Transportation, eight bicyclists were killed in motor vehicle collisions in Eugene-Springfield from 2004-2008 (the most recent data available).  Another 37 collisions resulting in serious injuries to bicyclists were reported to ODOT during the same period.  At least two additional bicyclists were killed in rural Lane County from 2004 to 2008..
Wednesday's ride will depart from the EMU around 7 p.m. on a flat, 10-mile route that will stop by three different locations at which bicyclists have been killed.  A brief memorial to the cyclist involved will occur at each site.  The ride is open to bicyclists of all ages and abilities.  Helmets are required by law for all cyclists under the age of 16, and are strongly encouraged for all.  For more information, contact Sue Wolling at 541-345-2110 or sue (at) eugenegears (dot) org.